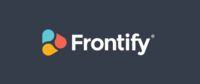 Frontify is a fast-growing company based in St. Gallen (Switzerland) with 90 people currently on board. We create an all-in-one brand management software, increasing brand consistency through centralized platform collaboration – for big businesses and small.
Do you also look at beautiful things and go "woah"?
Frontend Developer
Your team:

We're still a small core team of developers (around 10 people at the time), backed up by two Product Managers, a handful of Designers, and some additional people working in close proximity to you (DevOps, Security, etc.). Other neighboring colleagues are from the Growth Team – who also have a stake in the product development, and Customer Success Managers who are your bridge to the customers. They give you feedback for the beautiful things you've created.

 

You'll do:

Build the Frontend | Build new functions and features | Support in the backend | Work closely with UX and design | Help improve the user experience | Develop the product | Bring in your personality.
Here are some fancy skills you might/hopefully know about: 

HTML | CSS | JavaScript | PHP | English and/or German | MySQL databases | Performance.

 

You are:

A design aesthete | Authentic | Always honest | Self-motivated | Energetic | Efficient | Curious | Approachable. (This is not just a list of nice sounding words, we really mean it).
What the team says:

"We do freegile – agile but freestyle."

"It's cool that we release within minutes, and don't have fixed cycles."

"What we build is used by thousands of people, that's kind of awesome."

"I don't like admin stuff – luckily there is none of that here."

 

Let's get to the good stuff already, right? We'll give you:

Responsibility | Impact | An interdisciplinary team | Flexibility (like a lot!) | Time for side projects | A cozy office among the mountains | Inspiring colleagues | Happiness | A new family :)
Arbeitsort

9000 St. Gallen
St. Gallen
9000
St. Gallen